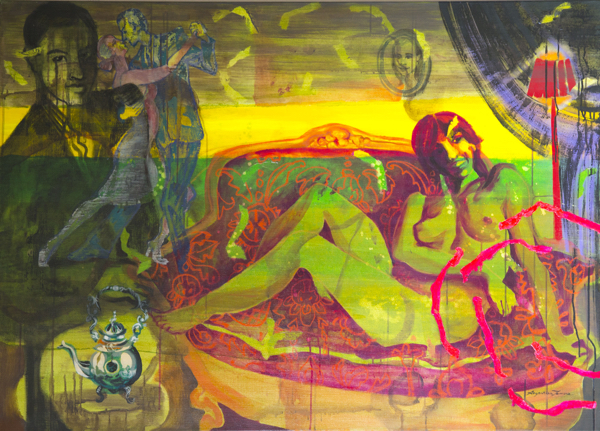 A painting by Argentina Zamora will feature a dynamic composition that has come to life in a spontaneous pictorial gesture. Consisting of wild and subtle brushstrokes, sometimes dripping sometimes throwing the paint onto the canvas. A flamboyant, often contrasting, use of colour is what characterizes her work. The final outcome is a magical reality wherein memory and present, ficton and reality lock on to each other, blurring 'the reading' of the painting, stimulating the viewer's imagination, continuously offering new discoveries by superposing different 'story lines'.
Argentina Zamora (Buenos Aires, 1949) Studied at the National Fine Arts School: M.Belgrano, P.Pueyrredon and E de la Carcova, under famous artists like B. Vernier, P.Monaco, C. Cañas, K. Kemble and E. Renaat. She presented her first exhibition in 1973. Between 1976-1978, her art was on exhibit in galleries and Museums in Sao Paulo (Brasil), Bogota (Colombia), California and New York (United States).
On her return to Buenos Aires (Argentina), she initiated her Art teaching classes and took part in multiple painting contests where she won various prizes. In 1985 she received the 1st price at Art CAYC, whose destination was Paris-France-Europe. Continuing on this success, she developed her artistic career in Europe and participated as one-man in contemporary Art-Fairs like STOCKHOLM (Sweden); ARCO (Madrid, Spain); LINEART (Gent, Belgium).
International Galleries which have exhibited her work: Gallery Nobet, Gallery Façade and Beau Lezard (Paris); Maghi Bettini (Amsterdam); Gallery Jakob Feldballe (Denmark); Cultural Centre Sao Lourenco (Portugal); Artelier Gallery (Bremen, Germany); Gallery Stenbock –Fermor (Gent, Belgium); Gallery Depeypere (Kuurne, Belgium); Star Arts Gallery (Antwerp, Belgium).
Art Critics who have supported and continue to support her career include: Jorge Glusberg (Argentina); Hans Redeken (The Netherlands); and Ernest Vanbuynder (Belgium).
In 2007 she started an atelier of Art Multicultural of Diversity and Integration in Antwerp (Belgium) which is still her current place of residence. In 2014 she joined the International Art Forum where she has taken part in multiple group exhibitions.
Her last solo exhibition was in Gallery Ludwig Trossaert 2015 (Antwerp, Belgium).
Argentina Zamora contact info:
Website: www.a-Zamora.com